Marriage Enrichment helped this couple make their strong marriage even stronger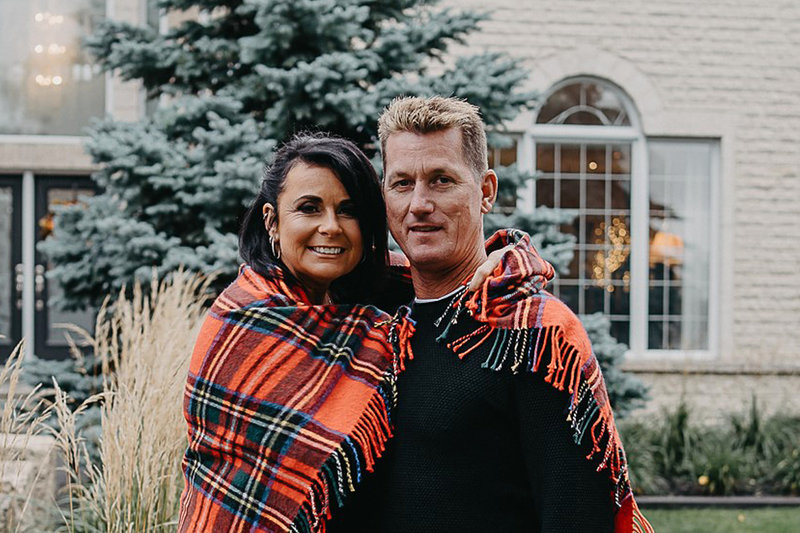 Doug and Carla have enjoyed a long and healthy marriage, by any measure.
"We've been married for 27 years plus," Doug reveals. "We got married very young, but I don't remember what my single life was like, it's been so long. I feel like we've had a great marriage. A lot of it stems from both of us having a good foundation coming in."
He admits they've also had their dry times, like all couples, but never to the point of considering walking away.
Carla feels the same about their relationship. "By choice and really being intentional, we haven't allowed a lot of crisis or trauma to come into our home," she explains. "Doug is a phenomenal husband, as far as always putting his family first, and does everything to make sure he's a good example to our boys."
She also acknowledges that there have been trying moments, especially seeing another family member go through a divorce. But it has only made them strive harder to protect their own marriage.
Through the years, the couple have been staunch supporters of Focus on the Family and have enjoyed many aspects of the ministry. But then, an email ad for a Marriage Enrichment Retreat in Victoria, BC, sparked Carla's interest, and she booked their flights the same day.
"I didn't even tell Doug," she says with a smile. "It was going to be a surprise, but I'm not good at keeping secrets."
Upon their arrival, they were both immediately struck by their beautiful surroundings.
"The destination was phenomenal," Carla recalls. "We got to go walking, we got to go hiking, we explored the island."
"We made it more of a weekend than just the retreat itself," echoes Doug.
The couple were just as impressed with their Marriage Enrichment facilitators, Wayne and Vicki, whom Carla describes as top-notch and world-class.
"I'm familiar with a lot of different types of counsellors and therapists and psychiatrists, and they were exceptional," she enthuses. "They were fantastic communicators. I was shocked at how much communication there was between them and the participants, who would just share and open up. People were so vulnerable and transparent."
"I liked the fact that there was the time between sessions to process," adds Doug. "They weren't just trying to pound information, it wasn't overload, it was a good balance of really good insights, but it wasn't so much that you feel overwhelmed."
"The whole weekend kind of shocked me," Carla continues. "I just envisioned we would be sitting in rows, but it was in a circle and you make relationships and hear stories."
For both Carla and Doug, their Marriage Enrichment Retreat offered a refreshing angle on marriage as a partnership of equals, helping each other work toward a shared goal.
"Doug and I, we're kind of a unique couple because we work together, so we breathe in the fact that we're a team in our business and we're a team in our parenting, and I home-school two out of our three boys, so there's a lot of family time that involves a lot of co-parenting," Carla explains. "Just to hear them teach about the whole person, coming in as a healthy person, bringing your best into the relationship, that all was really good."
"You'll often hear people throw in the Scripture of 'wives, submit to your husbands'," says Doug, "but with the win-win philosophy, you're two whole individuals and throw in that interaction, that was an interesting way to describe a marriage."
"The whole time I was sitting in those sessions," adds Carla, "I thought not just about how I'm going to communicate with Doug differently, but how am I going to communicate with my kids differently, how am I going to change the dynamics in my family."
And Doug was especially pleased with the commitment to provide extra help for couples who might need it. "They don't kick you out at the end," he stresses. "There's help if you need to work through things."
For Carla, the Marriage Enrichment tagline, "Make your strong marriage stronger," perfectly captures her and Doug's experience at their retreat.
"I couldn't ask for anything differently out of the weekend," she sums up. "We didn't change anything in our marriage, but I know now that if I feel something, if I feel triggered, then we can have a heart talk about it. We have understanding."
She continues, "It's so easy to think that if your marriage isn't falling apart that you don't need to do anything, but actually that's the best time to enhance your marriage; it's like adding fertilizer to your already blooming garden. You're gonna make it even stronger, healthier and more beautiful. We're also doing it for our boys that we're raising, showing them what a healthy marriage looks like. We want to grow and be better. I don't want to be complacent or stagnant. If I can be a better wife to Doug or a better mom to my boys, I want God to reveal that to me."
Doug is just as enthusiastic as he looks back on their time at the retreat. Although he had expected it to be good, the experience itself went far beyond his expectations. For anyone considering a Marriage Enrichment Retreat, he offers a simple word of encouragement: "You should go to one of these events and see it for yourself."
Stay up to date with the Focus on the Family
---