Hope Restored helped this couple hear each other better (on several levels)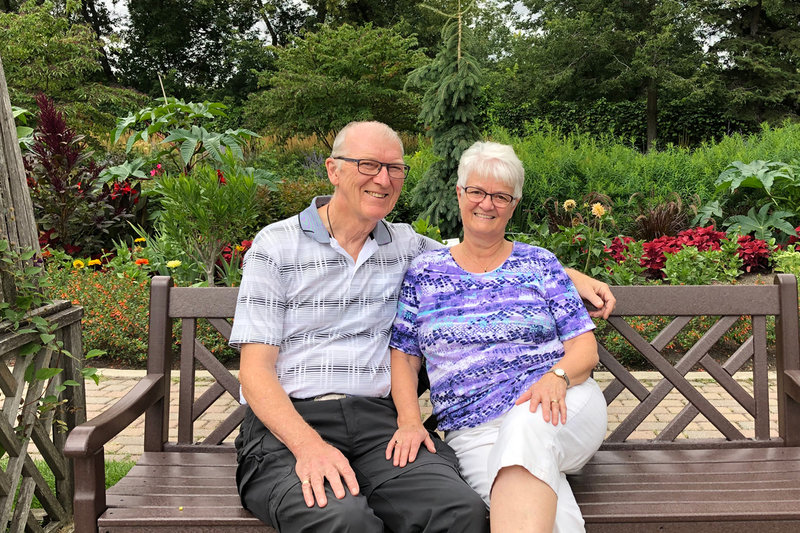 Bruce and Gail have been married for 52 years and they ran their own accounting business together for 40 of them. Yet when it came to their personal relationship, they were finding it increasingly hard to communicate – in more ways than one.
"I have a serious hearing disability," Bruce reveals, and because of this, the bulk of communication in their marriage had fallen mostly to his wife. "She quite often had to repeat over and over," he recalls. "I was quite concerned dealing with Gail's patience because the phrase she heard most often from me was 'Say it again.'"
Gail felt the same. "I would say that we just had some communication issues, misunderstandings, unrealized expectations or unmet expectations," she adds. "Communication was dwindling partially because of the hearing but partly also because of just poor communication skills."
Still, it wasn't as if they couldn't communicate at all. "Gail and I have always been in communication with owning a business," Bruce elaborates. "There has been heart talk, there's never been a lack in communication on Gail's part. She talks things out loud, but I tend to process things in my head."
Even so, they both knew things weren't heading in the right direction. Gail remembers, "We were both frustrated in our communication and we were spiralling to the point where it was easier to not have a conversation than to try and communicate."
"We were not giving up," she emphasizes. "We have difficulties, sure, but we are committed to each other and we weren't giving up on it. It was just that we wanted better communication skills."
That was when Gail found out about Hope Restored. She mentioned it to Bruce, and they were both eager to give it a try – but not without some initial misgivings.
"I think I was pretty apprehensive just because it said it really focuses on marriage in crisis," Gail explains. "We felt we didn't want to waste their time if we aren't at that point, and yet we were desperate for help in our marriage."
Any misgivings they had, however, were laid to rest when they arrived for their intensive.
"It was just a beautiful facility," Gail enthuses. "You walk through the front door and you just relax. Bruce is the introvert and I'm the extrovert. At the end of that first day, he was just totally exhausted and I was just pumped. I couldn't wait for the second day."
Bruce adds with a smile, "In my defense, we did have excellent guidance, but it was one man and three women in the room, and my thinking process does not proceed as fast as those three women."
Looking back, Gail appreciates how their counsellors, Bonnie and Vicki, had complementary approaches in helping them communicate. "Bonnie's personality was very much like Bruce's, Vicki was more like mine. When I would say something, Vicki could understand it, so it worked very well having two different counsellors."
"They were like coaches," echoes Bruce. "I felt like I had an ally with Bonnie, and Vicki was sort of covering the whole room. But they knew their job was to help us communicate and they were very good communicators. But at the same time, they would call me in places where I was ignorant or just not performing like I should have, or frustrated."
Throughout the couple's Hope Restored intensive, their counsellors were especially sensitive to the challenges created by Bruce's disability.
"The hearing thing will never change, and it was for me to share my frustrations with this," Bruce admits. "They could see that as part of my problem. They knew they couldn't solve it but could provide encouragement to hang in there, and to help Gail when she hears me constantly complain."
"I think for me, they gave us a lot of tools to use and they showed me just how to approach things in a different way when communicating with Bruce," adds Gail. "Probably having more patience, going to the Lord when things are frustrating, not venting – venting doesn't help, it just escalates the problem."
Gail sums up their time at Hope Restored with gratitude. "It just gave us valuable tools to use in communicating, not only with each other but with other people too. Just focusing on your marriage with God at the centre, they really stressed that. Having God at the centre of your marriage just makes a tremendous difference."
"As a couple, we both feel that the tools and expertise offered by Hope Restored are invaluable to any marriage at any stage and would highly recommend the experience."
Stay up to date with the Focus on the Family
---