Resources for Christ-filled adventures
By Jean-Paul Beran on Mar 10, 2023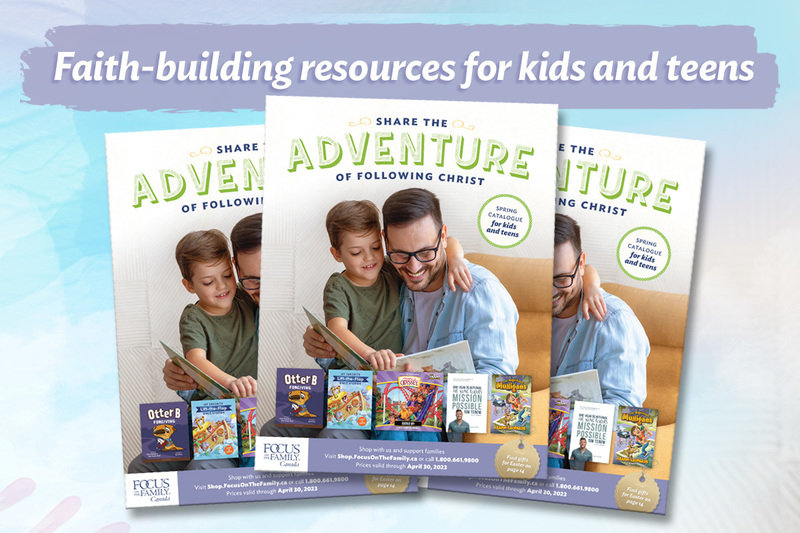 The Bible tells us to be in the world and not of the world; but how do we teach this to our children?
As a father myself, I understand the joys and challenges of raising children in today's culture. Information and messages come from every direction all at once. That's why Focus on the Family Canada is here to help equip parents with biblically sound entertainment and education so their children can become bright lights in a dark world.
We're thrilled to share all the awesome products and resources in our latest catalogue, which is all about helping you and your family share in the adventure of knowing Christ. I can confidently get behind every item in this catalogue, but here are a few I'm especially excited about.
My Favorite Lift-the-Flap Bible Stories
Unfold your family's beloved stories from Scripture with over 45 flaps, bright artwork, and short, simple text in this interactive Bible storybook for kids. Toddlers and preschoolers will discover hidden surprises as they learn about the adventures of God's people in the Old and New Testaments.
Learn more
The Imagination Station #29: Sled Run for Survival
When the kids step into the Imagination Station, they travel back in time and across the world with cousins Patrick and Beth. Each book is historically accurate, and readers will grow in their faith and knowledge of big historical events as they race through each unforgettable story. In this new book, follow Patrick and Beth as they arrive in Alaska in the winter of 1925 and discover that a very small enemy – a disease called diphtheria – is sweeping through the town of Nome. Can Patrick help retrieve enough medicine for the children by riding along with Clearsky and his team of sled dogs? Find out!
Learn more
The Magnificent Mulligans Book #1: Leapin' Leopards
From bestselling author Bill Myers comes a hilarious, warm-hearted and action-packed adventure starring the Mulligan family. Neither Michael nor Traci Mulligan had intended upon a large family, let alone one of such diversity. But God had other plans. After their second child, Lisa, was born blind, they began to see their gift for reaching out, connecting, and laughing with special children with special needs—all while raising their family among the many creatures living at the animal park they operate. This book is a fascinating journey through life's trials and trusting Jesus through it all.
Learn more
Launch Into the Teen Years Updated Edition
As a father of two teenagers, I have extra appreciation for this wonderful resource. This updated version includes a parent's guide, journal, anatomy booklet, and QR code linked to engaging videos developed by Focus on the Family parenting experts. These resources will help you and your child walk through six sessions addressing what he or she needs to have a successful adolescence.
Learn more
While I'd recommend each of these resources without hesitation, I know how beneficial it can be to talk to someone. Our registered Christian counsellors offer free, one-time phone consultations, and we also refer to local counsellors across the country. Our care team is ready to pray with you for whatever burdens are on your heart. Call us at 1.800.661.9800 or email us at [email protected]. You don't have to face this difficult season alone.
Blessings,
Jean-Paul Beran, MA
 President
 Focus on the Family Canada
Stay up to date with the Focus on the Family
---
---