President's Picks: Encourage reading, expand imagination and build faith
By Terence Rolston on Jun 13, 2019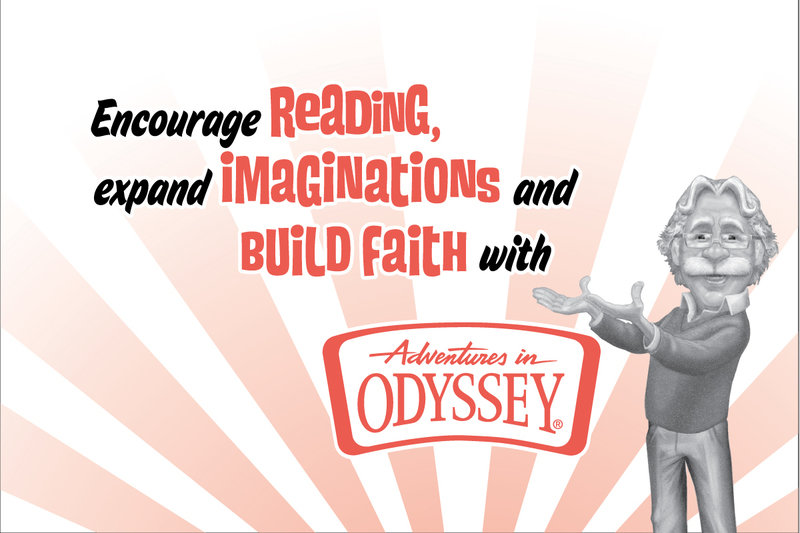 With summer just around the corner, families are starting to think about the fun they'll have together and parents are starting to think about how to keep their children entertained during those long summer days.
For the last 32 years, Adventures in Odyssey has been loved by children and parents alike. We regularly get calls, emails and letters from families just like yours who love listening to these audio adventures.
"I have to let you know how much my daughter is loving Adventures in Odyssey. She wants to listen to it all the time in the van. The stories are so well done. Thank you for all the work you guys do to help bring engaging and meaningful content to children."
"We always purchased a new album for summer road trips! We've been listening to Adventures in Odyssey for over 20 years! And we still do!!"
"Our family loves Adventures in Odyssey! My daughter begs for it as soon as we get in the car. Thanks Focus on the Family!"
And with the newest album #66, Trial by Fire, ready for families to enjoy this summer and the next album scheduled to be released this fall, there is so much faith-building audio entertainment from the town of Odyssey to enjoy!
But did you know we have more than just audio dramas from Adventures in Odyssey?
We all know that children today – along with their parents – are on their screens more and more, and it can be difficult to find wholesome entertainment alternatives. That's why we have a great selection of Adventures in Odyssey books for children of all ages.
Not only do these books engage your children's imagination with faith-building content, but they also help them improve their reading skills – especially over the summer months.
To help you make the right choice for your children, here are some of our favourite books from Adventures in Odyssey.
The Imagination Station
For those of you familiar with Adventures in Odyssey, John Avery Whittaker's Imagination Station is one of his greatest inventions! It's a time machine that allows Whit's friends to go on adventures to fascinating biblical and historical events. In this book series, cousins Patrick and Beth take the Imagination Station to meet historical figures like Corrie ten Boom and Saint Patrick, and biblical heroes like David and Daniel. The Imagination Station series, written for readers seven and up, will not only spark your child's imagination, but they'll also learn from Christian role models throughout history.
The Blackgaard Chronicles
 For kids ages 10 and up, this new book series is enthralling young readers. For those unfamiliar with the audio series, the mysterious Dr. Regis Blackgaard sets out to ruin the goodness at the heart of Odyssey. In The Blackgaard Chronicles book series, readers experience scenes not included in the audio episodes as they explore more of the story behind the audio drama and will learn from the battle between good and evil.
Young Whit
 For years, fans of Whit have only been given glimpses of his past, but in the Young Whit series for readers ages 10 and up, they have a unique opportunity to get to know the boy who would eventually grow up to help residents in the town of Odyssey. When a young John Avery Whittaker moves to a new town, he finds himself on exciting adventures of his own, full of mysteries to solve. Parents and children will love getting to know the history of the man behind Whit's End.
Captain Absolutely
Wooton Bassett, a favourite character from the audio dramas, created a new comic book hero named Captain Absolutely – a great wholesome alternative for young readers who enjoy graphic novels. After librarian Josiah King discovers and reads through a Bible that had been hidden by the local government for years, he gives his life to the Lord. Soon after, he inhales fumes from an explosion that give him super strength and the ability to fly. The novel follows his adventures seeking justice and truth in a world where neither are upheld.
For a lot of children, the reading progress made in the school year often drops off over the summer, but with all of these reading adventures from Adventures in Odyssey – plus many more you'll find in our store – your kids will have ample opportunity to hone their reading skills and expand their imaginations over the next few months while learning valuable life lessons at the same time.
And to help you dive even deeper into the themes of these books, we have a free download to help you start a parent-child summer book club! This PDF has everything you need to get started, including directions, a board game, prize sheet and discussion questions. You can get your own copy for free today by signing up for the book club.
Be sure to visit our store to explore our collection of Adventures in Odyssey books, audio albums and more! Looking for a recommendation? Call our team at 1.800.661.9800 and we'll be happy to help!
Stay up to date with the Focus on the Family
---
---