Meaningful gifts for Christmas
By Jean-Paul Beran on Oct 17, 2022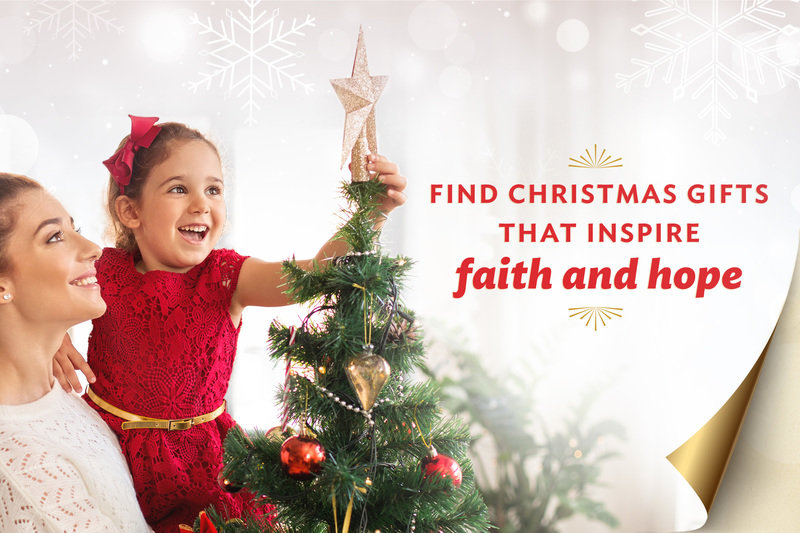 We're deep into the fall season already. Even as we see the leaves fall to the ground and the weather begin to cool, I'm reminded of one thing that never changes: the hope we have in Jesus.
As Christmas draws near, it's my prayer that you and your family are also able to look forward in hopeful anticipation of ever-better days ahead – that this Christmas season promises new freedom to go where you will and gather with those you love. And I pray that you'll find great joy in your celebration of the birth of our Lord.
To help celebrate the Christmas season and to share God's love with those around you, I want to tell you about our 2022 Christmas catalogue. While I would love to put a spotlight on every item in this catalogue, I want to highlight a select few for you.
Advent
Emmanuel
Emmanuel is a 25-day invitation to rejoice in the everlasting fellowship and hope God extended to us on the day of his Son's birth, guiding us to realize that having God with us all year long is the most incredible Christmas gift.
See details
25 Days of the Christmas Story
This devotional is perfect for families of all shapes, sizes and schedules. Each of the 25 days highlights a different person, place or object from the Christmas story. All devotions include an easy-to-read story, character trait, activity and more – each designed to reinforce the main theme of the day.
See details
Devotions for you and your family
Hand Lettering God's Word
If you've ever admired a homemade card or gift and wished you could produce beautiful writing, this book is for you. God made you to be creative. This helpful guide can show you how.
See details
God Is My Hiding Place
Through this 40-day devotional based on author Corrie ten Boom's writings, you will find inspiration to strengthen your faith, re-root your soul in Christ and increase your experience of God's peace.
See details
The Whole Story for the Whole Family
Parents are called to be the primary spiritual influence in the lives of their children. In an easy-to-use and simple format, this devotional guide will equip parents to start teaching their children the Bible.
See details
Gifts to inspire
They Walked with God
Author Max Lucado takes a closer look at 40 of the most inspirational characters in the Bible and shares a powerful message: if God can find a place for each character in the Bible, we can rest assured he's carved out a spot for us too.
See details
The Living Table
This practical devotional, hospitality book and cookbook will equip the most intimidated host or hostess. Hosting doesn't require food that takes all day to prepare. It's also not about being perfect; it's about offering care to one another and building community.
See details
For the kids
Otter B Joyful
Part of the popular series of children's books that teach young children basic biblical values. In this story, Otter B doesn't think his role as a shepherd in the Christmas play is so great. But Otter B's disappointment vanishes as he becomes a modern-day shepherd and makes a special Christmas delivery!
See details
The Imagination Station #28: Islands and Enemies
When kids step into the Imagination Station, they travel back in time and across the world with cousins Patrick and Beth. Each book is historically accurate, and readers will grow in their faith and knowledge of history as they race through each unforgettable story. Enjoy this exciting new installment in the series!
See details
VeggieTales: Joy to the World
Discover the true meaning of Christmas with famous VeggieTales characters and a holiday story little ones will love.
See details
Teens
NIV Teen Study Bible
The NIV Teen Study Bible continues to be a teen's top resource for discovering the foundational truths of the Bible. Now available in Zondervan's exclusive NIV Comfort Print typeface for smooth reading, this Bible is as easy to read as it is to understand.
See details
The Wish Book Christmas
From the bestselling author of If I Were You comes a nostalgic and endearing holiday story that reminds us that sometimes the most meaningful gifts are the ones we least expect and don't deserve.
See details
Family entertainment
The Girl Who Believes in Miracles (DVD)
Unlike most people, young Sara Hopkins is willing to take God at his word. So, when she hears a preacher say faith can move mountains, she starts praying. What begins with a mysteriously healed bird leads to people suddenly cured of their misery and misfortune all over town. But the overwhelming crush of notoriety and press attention soon takes its toll on Sara. Will her family be able to save their miracle girl before it's too late? Follow Sara on this inspiring journey!
See details
Draul (Game)
This swift-swapping, flip-flopping, wild-wagering card game will provide fun for the whole family! Ages 8+.
See details
I trust you'll find something impactful in this catalogue for those in your life. Explore it here!
Blessings,
Jean-Paul Beran, MA
President
Focus on the Family Canada
Stay up to date with the Focus on the Family
---
---