Meaningful gifts for Christmas
By Jean-Paul Beran on Oct 19, 2021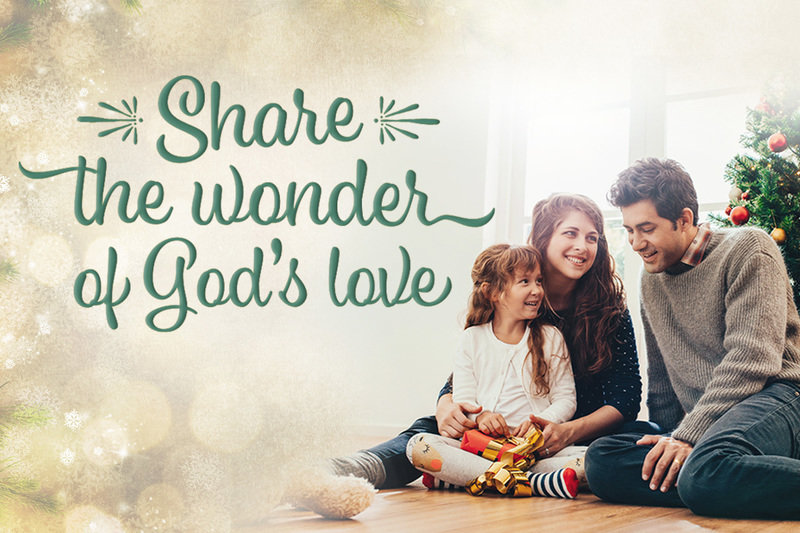 Even in another year of such uncertainty and constant change, I'm thankful I can count on something that is constant: the hope we have in Jesus.
As Christmas draws near, it's my prayer that you and your family are also able to look forward in hopeful anticipation of ever-better days ahead – that this Christmas season promises new freedom to go where you will and gather with those you love. And I pray that you'll find great joy in your celebration of the birth of our Lord.
To help celebrate the Christmas season and to share God's love with those around you, I'd like to tell you about our 2021 Christmas catalogue. While I would love to put a spotlight on every item in this catalogue, I want to highlight a select few for you today.
Advent
'Twas the Season of Advent
Begin a new Advent family tradition with this beautiful celebration of the season that's perfect for the entire family. Written in both prose and poetry, this book will engage children and adults alike and become a new holiday tradition.
See details
Bring on the Merry: 25 Days of Great Joy for Christmas
Do you need a refill of joy and wonder this Christmas? Bestselling author and actress Candace Cameron Bure guides you to personally reconnect with Jesus in ways that will change your perspective and response to the timeless Christmas story through devotions, activities and classic Christmas stories.
See details
Devotions for adults
Symphony of Salvation: A 60-Day Devotional Journey Through the Books of the Bible
Lean back as you reflect with pastor, poet and author Eugene Peterson on how these ancient stories and this compelling portrait of God speak directly to your everyday life. This devotional journey through all the books of the Bible will set every day on the right course.
See details
A Song in My Heart: 366 Devotions from Our Best-Loved Hymns
The lyrics of our favorite hymns are rich in images that can help us in our daily walk with God. Bestselling author Robert J. Morgan walks you through the stories of 366 hymns (or stories about their writers) with favourites such as "Amazing Grace" and "Rock of Ages," as well as lesser-known gems.
See details
Devotions for the family
The Family Cookbook Devotional: 50 Recipes for Faith, Food, and Fun!
Parents want to pass on their faith to their children, but sitting down to a devotion workbook may not work for them. Still, everyone needs to eat! Combine family devotion time with the everyday experience of cooking and enjoying food together as a family.
See details
Beautiful Hearted Women of the Bible: A Creative Mother-Daughter Devotional
This creative and interactive 40-week devotional provides a sweet space for moms and daughters (ages 6–10) to grow in their relationship with God and each other. These stories will inspire both moms and daughters to develop beautiful hearts of strength, courage, and love and will ultimately point them to Jesus.
See details
Gifts to inspire
You Were Made for This Moment: Courage for Today and Hope for Tomorrow
Pastor and New York Times bestselling author Max Lucado walks you through a fresh perspective on the book of Esther which brings welcome news: Relief will come to challenges and struggles!
See details
Growing Strong: Workouts, Devotions, and Recipes to Become Healthy from the Inside Out
Personal trainer and nutrition coach Cambria Joy helps readers see that physical health starts with spiritual health. This faith-building book guides you through health and wellness at every level – physical, emotional and spiritual.
See details
For the kids
How Great Is Our God: 100 Indescribable Devotions About God and Science
Author Louie Giglio offers 100 devotions about God and science that show children the awe-inspiring connection between the natural world and the God who created it.
See details
Adventures in Odyssey #71: A Slippery Slope
In this episode, a girl loses her faith and walks through the process of seeing if she can ever find it again. Join your friends at Whit's End to find out the end of the story!
See details
Family entertainment (DVD)
We Three Kings
Gather round the TV for a fun, festive movie about three siblings facing their first Christmas since their mother's death, and their uncle who helps turn Christmas around for everyone.
See details
Mary 4 Mayor
What begins for 18-year-old Mary Parson as a retaliation against her father, the mayor of their small town who abandoned his family after suffering a midlife crisis, turns into a full-scale war as Mary becomes the lone challenger to his re-election. Join Mary in this entertaining, faith-building movie!
See details
I invite you to explore our 2021 Christmas catalogue, and I trust you will find something impactful for each special person in your life!
Stay up to date with the Focus on the Family
---
---