Faith-building resources created by Focus
By Jean-Paul Beran on Apr 08, 2022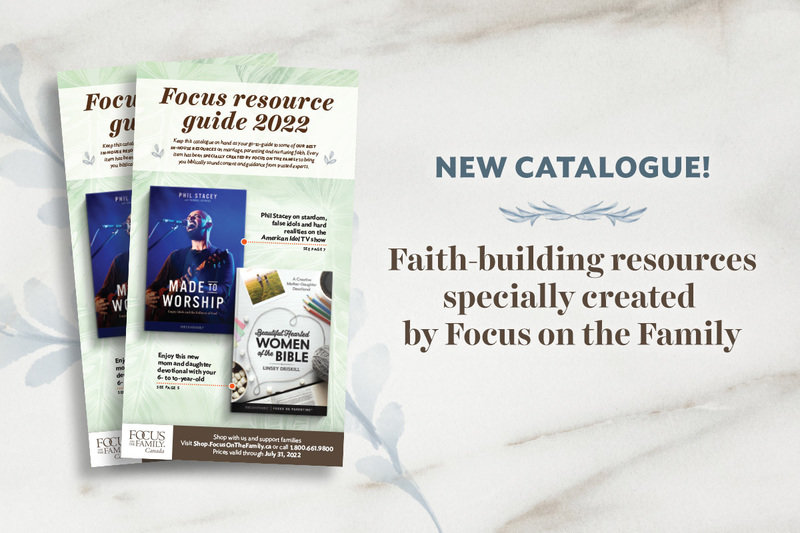 As a believer, I often find it overwhelming to pick a new book to read or a movie to watch when there's so much to choose from. In our ever-busy lives, it's tough to find time to examine whether that movie or book will build us up or bring us down. That's why I'm thankful for the resources created by Focus on the Family Canada; I can always trust that the content is biblically sound and will strengthen my relationship with Christ.
At Focus, one of our goals is to showcase a broad variety of faith-building resources. Here are a few selections I'd love to tell you about:
Marriage
Reconnected: Moving from Roommates to Soulmates in Your Marriage
Over time, the busyness of life creeps in and even the most deeply committed couples can feel like they're living parallel lives rather than enjoying life together. Their once happily-ever-after can quickly turn into an endless grind of work, chores, errands and carpool. And the pull of social media becomes more compelling than engaging with one's spouse. In this book, Dr. Greg and Erin Smalley offer practical ways to rekindle the passionate, intimate, heart-to-heart spark of connection between husbands and wives.
Learn more
Family
Rocking It Grand: 18 Ways to Be a Game-Changing Grandma
Today's grandmas live in an ever-changing, fast-paced, highly competitive, busier-than-ever world. Chrys Howard and Shellie Tomlinson have more than 20 (as of now) grandchildren between the ages of newborn to 30 years old. Together, they inspire grandmas with personal stories, learned insight, relevant Scripture, and a few laughs to encourage new and seasoned grandmas to press on.
Learn more
Made to Worship: Empty Idols and the Fullness of God
Phil Stacey shares the exciting details of his quick rise to fame on American Idol as well as the resulting emptiness it offered him. You'll be encouraged as you read how Phil escaped the lure of an empty idol and instead experienced the fullness of God. And you'll be amazed by how God ultimately used Phil's notoriety to spread the Gospel around the world. Like Phil, you'll learn that we only find true fulfillment when we find it in Jesus Christ.
Learn more
Kids
Captain Absolutely (Revised and Expanded)
First featured in Adventures in Odyssey and Clubhouse magazine, Captain Absolutely is an award-winning comic that engages young imaginations while helping kids understand eternal truth. Readers will enjoy this explosive adventure that is full of action, humour and thought-provoking face-offs, all the while learning how to stand firm in their faith in today's world. This updated and revised edition includes nearly 40 pages of biblical instruction and insights from children's experts at Focus on the Family. Kids will learn what Christians believe and how these truths frame our perception of reality and give us hope for the future.
Learn more
Teens
Riverbend Friends
In the town of Riverbend, four friends laugh together, lean on each other and seek the Lord as they face the pressures of family relationships, self-image issues, social media and more. Explore their stories and adventures in this series of four compelling novels.
Learn more
I invite you to explore more of our featured faith-building resources. I'm certain you'll find something for each member of your family to deepen their relationship with Christ!
Blessings,
Jean-Paul Beran
President
Focus on the Family Canada
Stay up to date with the Focus on the Family
---
---