A tool to celebrate Advent as a family
By Jean-Paul Beran on Nov 15, 2022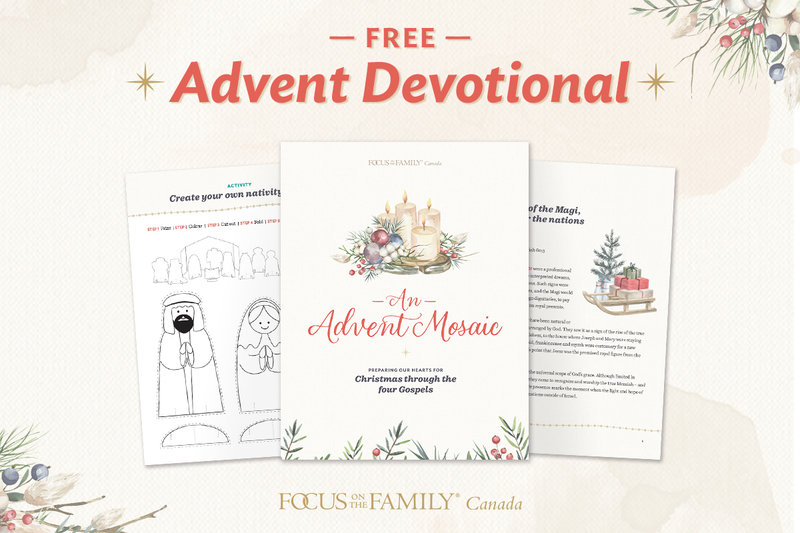 As a child, did you wake up each morning in December thrilled with the anticipation of a daily Advent chocolate? That small little treat was always so special. Susan and I always loved seeing our daughters enjoy them over the years.
However, even the sweetest chocolate can't compare to the joy of Jesus, nor to the true significance of his birth. During the Advent season, it's traditional for followers of Christ to prepare our hearts and minds to celebrate the birth of our Saviour. The historical celebration of Advent included the Nativity scene but also meditated on the cross and the heavenly throne, encompassing everything from Jesus' birth at Bethlehem to his return at the end of time.
In keeping with this broader concept of Advent, this free 28-day PDF Advent devotional will take you through the four Gospel accounts – seven days for each – to provide a detailed mosaic that will prepare your heart for celebrating Christ this Christmas. Plus, you and your family will enjoy a free cut-out Nativity scene!
I truly hope that this devotional will resonate with you and your family, and that, together, you can reflect on Jesus's birth with a renewed sense of wonder. In a world that so desperately needs saving, I pray that our hearts will open to the Saviour right before our eyes.
Blessings to you and your family this Advent.
From my family to yours,
Jean-Paul Beran, MA
President
Focus on the Family Canada
P.S. Remember to mark your calendar! Advent begins Sunday, November 27, which is the fourth Sunday before Christmas Day.
Stay up to date with the Focus on the Family
---
---