Themes covered
What's inside this article
Have you ever worried that something's missing from your family's birthday celebrations?
For sure, you always create a fabulous day for your birthday child. You lay on cake and presents, and host a riotous party your kids' friends will talk about for weeks. Your birthday child is always thrilled with how their special day unfolds.
Still, as believing parents, we can feel at a loss when it comes to marking our children's birthdays in a way that is spiritually meaningful.
Making birthdays spiritually meaningful
In her book Growing Grateful Kids, Susie Larson offers parents a fabulous idea. For Larson and her family, it's a favourite "eve of Christmas Eve" tradition, but it also makes a wonderful birthday tradition. Along with powerfully boosting the birthday child's self-esteem, this tradition serves as a reminder that their birthday is another milestone in an exciting faith journey that God has planned just for them.
Lingering around the table following a delicious meal, bathed in the warm glow of flickering candles, Larson's family repeats a ritual that's been practiced by generations of Jewish families down through the ages. It's a Sabbath tradition that recalls the prophetic blessing Isaac spoke over his son Jacob (see Genesis 25:19-24 and Genesis 27).
During the Sabbath meal, the Jewish father stands behind his son or daughter, places his hands their shoulders, and speaks a blessing over his child. As the father gives the blessing, the mother pours wine into the child's glass – but it's no restrained offering. The mother pours the wine until it overflows the glass and streams into a saucer below.1
That crimson cascade of overflowing wine is beautifully symbolic. It represents God's abundant blessings in the child's life – an abundance which cannot be contained. What surely resonates most with the child, in that moment, however, is the gift of their father's words.
The importance of spoken words
In Larson's family, those words are chosen very carefully. At least a week ahead of time, Susie and her husband, Kevin, ask the Lord for guidance and a Scripture of blessing for their child. Ultimately, their goal is to clearly convey three important messages:
Firstly, that their child is dearly loved by their parents; secondly, that he is even more dearly loved by God; and thirdly, that they, the parents, see God at work in their child, and are confident that God will make something wonderful of their child's life.
That's a priceless gift for any child, at any age! When whispers of self-doubt assail that child in the future, he or she will always have moments in time they can point to and remember, That was it! That was when my parents said it aloud! That's how I know I'm loved.
How blessing your child is an encouragement to you
Crafting a special blessing can be a tonic for parents too. We fret so much about what our child is not, that we can easily forget to focus on our child's strengths. As Tommy Nelson powerfully reminds parents in his article Different From Dad, "Children need to know that parents are excited about what God made them to be, not that we're frustrated about what God did not make."
Ironically, for many parents, it's busyness – the countless loving things parents do for their kids – that gets in the way of meaningfully saying the words "I love you." To be sure they are loved, your kids need to hear you say the words.
In their book The Blessing, John Trent and Gary Smalley lament the large numbers of children who grow into emotionally wounded adults, plagued by doubts about whether they were ever "good enough" for their parents – or for God:
"A thief is loose in many homes today who masquerades as fulfillment, accomplishment and success. This thief steals the precious gift of genuine acceptance from our children and leaves confusion and emptiness in its place. The villain's real name is overactivity, and it can keep parents so busy that the blessing is never shared, even with parents who dearly love their children . . . Life is so hectic that, for many parents, that 'just right' time to share a blessing never quite comes around."
It's your child's birthday. Another year has flown by. How quickly time passes! Why not use this day – your child's birthday – as a reminder? Make this the day you give your child your special blessing!
And if initiating a ritual like this feels a little awkward to you, it won't be so for your child. Believe me, your child is already anticipating some special surprises on their birthday!
What to say to your child
So just how exactly do you craft a special birthday blessing for your child? In The Blessing, Trent and Smalley suggest some guidelines from blessings found in Scripture:
Use meaningful and appropriate touch
Make physical closeness part of your blessing. Lay your hands on your child's head or shoulders, or wrap your arm around their shoulders.


Speak aloud a message of love and encouragement


Attach high value to your child
Tell your child how much they mean to you. Painting a word picture, or presenting your child with a meaningful object, can also be helpful here – something that affirms a positive character trait. What child wouldn't remember forever a statement like, I bought you this little star because it reminds me of you. You are always such an optimist. When everything looks dark and dismal, you are always able to see the bright points. I love your faith in God's faithfulness!


Picture a special future for your child
Seek God for a Scripture verse and hints at how your child's strengths might connect with the special destiny God has in mind for them. Just watch your child's face as you speak confidently of God's love for them and point them toward the bright future He has already dreamed for them!


Express your active commitment to fulfill the blessing
Make clear your unwavering commitment to help your child grow into their full potential. And in the days, months and years ahead, keep redoubling your efforts to parent the best way you know how. One day in the future you'll wonder at the amazing person your child has become. Then you'll recognize the blessing that was waiting for you too!
More ideas for your child's birthday
After you've given your child your verbal blessing, also prepare a written copy your child can keep. Perhaps make a special scrapbook, adding every new birthday blessing each year.


Make a birthday exciting from the moment your child awakes. Sneak into their room at night and leave helium balloons with colourful streamers dangling from the ceiling, or tape a "windfall" of balloons just outside their bedroom door. (Close the door, create a "net" of tape, then stuff it with balloons that will tumble down as your child opens the door.) With a felt-tip marker, write a Scripture verse of blessing on each balloon.2

Greet your child with a special birthday song when they show up for breakfast. Check out Write Your Story by Francesca Battistelli, Made New by Lincoln Brewster or Fingerprints of God by Steven Curtis Chapman for some nice options.


A stressed-out mom can mean a blessing coming undone! If your child's birthday party requires a lot preparation, consider hiring a babysitter for the morning, or having a precious aunty come over to entertain the children while you take care of last-minute details.


Instead of the traditional Happy Birthday song, choose a version that points your child to the Lord, or make up one of your own. Here's one popular alternative:

Happy birthday to you
To Jesus be true
May God's richest blessings
Now rest upon you.


Here's a neat birthday gift idea from Tony Evans' book Raising Kingdom Kids. Evans' wife, Lois, describes how she and Tony had decorative plaques made for each of their children, which they hung in a prominent place in their home. Each panel features the child's name, the Biblical meaning of their name, and a special Bible verse chosen for them.


Encourage your older child to spend some special "birthday time" alone, reading the Word, talking to God about hopes and dreams for the future, reflecting on how they have matured over the past year, and what they should pay attention to, in the next months, to become all He wants them to become. Give them a special birthday journal where they can jot down their thoughts each year.


During the teen years, affirming words can be even more powerful when they come from siblings. (Unlike parents, affirmation isn't assumed to be in a sibling's job description!) Prepare a list of Christ-like character traits, then have each sibling read out the three that they believe characterize the birthday child best.


Capture on film an annual "birthday interview" with your child, and on or near their birthday each year, have fun reviewing past interviews. You'll want to keep the questions very simple for young children, and add more complex questions as your child ages. Here are some ideas for interview questions:

What age will you be turning on your birthday?
What's your favourite colour / thing to wear / TV show / movie character?
Who are your best friends right now?
What's the last book you read / your favourite book to read?
What's your favourite pastime /play activity right now?
What new thing did you do this year that you had never done before?
What big changes have happened for you in the past year?
What's one thing you did this past year that you feel really good about?
What new thing have you enjoyed learning this year? (Try to convince your child to play their musical instrument / talk about their sport or hobby etc. on camera.)
Where did you go for vacation this year?
What are some of your favourite memories from your year of being ___ years old?
What kind of job/career interests you? / What would you like to be when you grow up?
What are you looking forward to?
What have you learned about God and how much He loves you?
What have you learned about what God wants for you in the future?
Have you changed your mind about / come to a conclusion about an important issue this past year?
What advice would you give someone who is only just turning ___ years old?
---
Do you celebrate your child's spiritual birthday? The birthday blessing tradition described in this article would be a great way to mark a "today I believed" anniversary for your child too.

1 If you adopt this tradition for your family, you may prefer to use grape juice.
2 Please do not use this idea if you have small children in the house.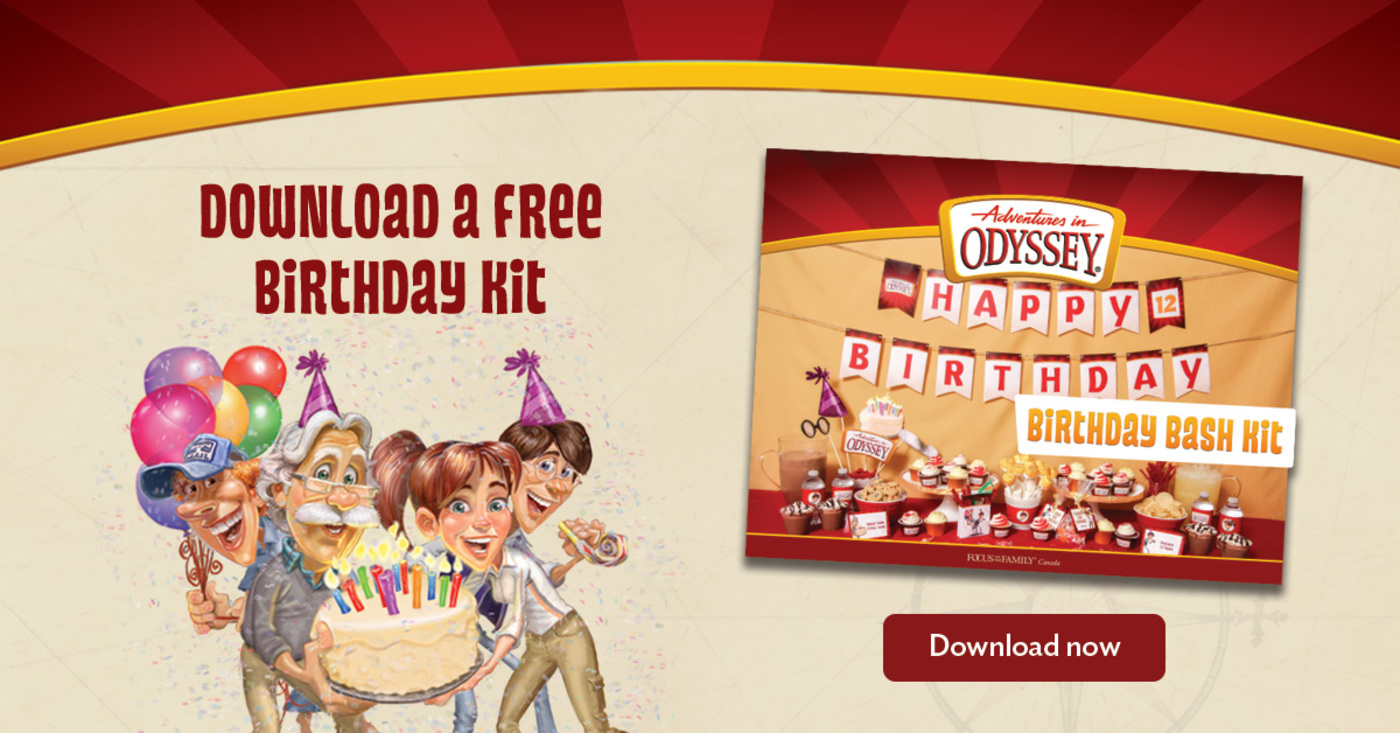 Catherine Wilson is an associate editor at Focus on the Family Canada.
© 2015 Focus on the Family (Canada) Association. All rights reserved.
If you liked this article and would like to go deeper, we have some helpful resources below.
Our recommended resources
Free advice on marriage, parenting and Christian living delivered straight to your inbox
View comments ()